Pietrafitta and the Chianti hills
Municipality Radda in Chianti
OUTDOOR / TRAILS / RADDA IN CHIANTI
The trail winds its way through the vast pine forests of the Castellina ridge and, after traversing various hills along small roads and cart tracks, reaches the hamlet of Pietrafitta, now a charming accommodation facility.
Past the medieval village the route proceeds in slight ups and downs until it touches the vineyards of the Querceto farm. Here you walk along the dirt road until you reach the farm and pass it. The trail continues for a while more along the ridge until it meets a fork in the road on the right and, taking care, turns with a sharp bend, now descending on a path through the woods that proceeds downhill.
You cross open sections due to forest cutting and thicker sections where the path becomes narrower. Still descending, you reach the Gerla houses and here takes a dirt road that proceeds downhill toward the Pesa valley. It is about 400 meters to the river, which you cross on a carriage bridge.
You have reached Lucarelli where the trail ends.
Points of interest
- The village of Pietrafitta with its history and enchanting location is a place worth lingering over.
- The farm of Querceto offers enchanting views
- Chianti's characteristic landscapes
Technical Details:
- Starting Location: Poggiofulvo, in the municipality of Castellina, from the junction with Via Romea Sanese.
- How to get there: To reach trail 345 you need to have the town of Castellina in Chianti as a reference point. From Castellina proceed in the direction of San Donato in Poggio along the sp 76. Shortly after the town and on the first hills you will reach the starting point of the trail. An alternative is to arrive directly at Pietrafitta and from there, skipping the first part of the trail, reach Lucarelli.
- Place of arrival: Lucarelli
- Access: From Castellina proceed in the direction of San Donato in Poggio along the sp 76. Shortly after the town and on the first hills it is necessary to turn right onto a dirt road that reaches the locality of two Oaks. Before reaching the previously mentioned farm, you reach the starting point of the trail.
- Difficulty level: E - Hiking
- Any critical issues: There are no critical issues, but some short sections of the trail lack shade and it is necessary to equip oneself in summer with hats and appropriate protection
- Experience requirements: basic hiking skills
- Walking Time: 2 h 30 min.
- Length: 8.1 km
- Total ascent: 169 meters
- Total Descent: 497 meters
- Maximum Height: 622 m.a.s.l.
- Minimum Height: 279 m.s.l.
- Signage: horizontal signs on trees and rocks, presence of wooden pegs with regulation coloring
- Best time to tackle the trail: all year round
- Equipment needed: basic hiking equipment
- Operators offering ancillary tourist services to the trail: nd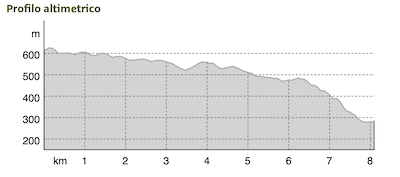 Let yourself be inspired by the legends, stories, and a thousand excellences of this land in the green heart of Tuscany