On the trail of Leo Lionni
Municipality Radda in Chianti
OUTDOOR / TRAILS / RADDA IN CHIANTI
The trail begins in the locality of Pescinale and immediately proceeds on a sharp climb along a dirt road.
You proceed through a beautiful forest of oak and chestnut trees until you reach a crossroads of dirt roads. You turn sharply to the right continuing uphill. Now the forest is lower and brighter, with lots of scrub. The trail is not difficult to follow and there is little chance of error.
Arriving near the ridge the forest becomes cut and there are some side roads, so a little more attention is needed. You come to a clearing from which some paths branch off. Turn right for a sharp descent that takes us onto a dirt road and to the vicinity of the le Campora farm. From here proceed to the left until you reach a junction where there are some strange sculptures made about 30 years ago by the famous American artist Leo Lionni.
From here you proceed uphill among large chestnut trees until you reach a farm that you pass entering the woods again, and with slight ups and downs you reach the end of the trail, near the asphalt road and path 308, not far from the archaeological site of Cetamura.
Points of interest
- The views along the ridge
- The sculptures of Leo Lionni
- The archaeological site of Cetamura
Technical Details:
- Departure Location: Podere Pescinale in the municipality of Radda
- Getting there: Podere Pescinale is located 5 kilometers from the town of Radda in Chianti; however, to get to the trailhead you need to park your car near Selvole. To get to Selvole from Radda take the sp 72 until you meet the Selvole communal road on the right. After about 1.5 kilometers find the fork on the left that leads you to Pescinale. Park nearby.
- Location of arrival: -
- Access: The access is along a dirt road and can be reached on foot
- Difficulty level: E - Hiking
- Any critical issues: none
- Experience requirements: basic hiking skills
- Walking Time: 1 h and 20 minutes
- Length: 3.5 km
- Total ascent: 236 meters
- Total Descent: 292 meters
- Maximum Height: 696 m.a.s.l.
- Minimum Height: 500 m.s.l.
- Signage: horizontal signs on trees and rocks, presence of wooden pegs with regulation coloring
- Best time to tackle the trail: all year round
- Equipment needed: basic hiking equipment
- Operators offering ancillary tourist services to the trail: nd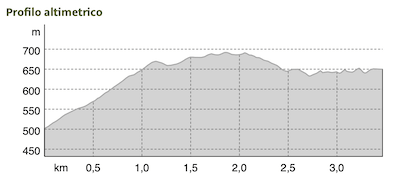 Let yourself be inspired by the legends, stories, and a thousand excellences of this land in the green heart of Tuscany