Municipality Radda in Chianti
OUTDOOR / TRAILS / RADDA IN CHIANTI
The trail begins at one of Radda in Chianti's historic monuments, the Convent of Santa Maria al prato, home of Chianti Classico, and from here it heads into the valley of the Rigo stream. The road is unpaved and downhill from the start.
After a few hundred meters it arrives near the newly created stream and meanders through the forest of poplars, alders and willows. You travel along the valley until the landscape opens up with wide views of small fields and the woods surrounding the stream. Once you reach the fork with the paved road, continue downhill until after a short while you take the dirt road that continues in the direction of Vallimaggio, beginning a challenging climb right away.
From here we enter the municipality of Gaiole in Chianti and soon reach the farm that is located halfway up the hillside, dominating the valley and the surrounding hills. From here we can observe a beautiful view of the church of San Giusto in salcio is the village of Radda.
Points of interest:
- Convent Santa Maria al prato
- Church San Giusto in salcio
Technical Details:
- Starting Location:Radda in Chianti, Former Convent S. Maria al Prato
- Getting there:The starting point is easily reached by car arriving directly from the center of the town of Radda in Chianti by taking the Santa Maria bypass. The coordinates of the beginning of the trail are: 43.483651, 11.378226
- Location of arrival: -
- Access: Access to the trail is from the town of Radda and can be reached either on foot or by car. There is a parking lot near the trailhead.
- Difficulty level: E - Hiking
- Any critical issues: none
- Experience requirements: basic hiking skills
- Walking Time: 2h and 20 minutes
- Length: 6.4 km
- Total ascent: 229 meters
- Total Descent: 168 meters
- Maximum Height: 588 m.a.s.l.
- Minimum Height: 379 m.s.l.
- Signage: horizontal signs on trees and rocks, presence of wooden pegs with regulation coloring
- Best time to tackle the trail: all year round
- Equipment needed: basic hiking equipment
- Operators offering ancillary tourist services to the trail: nd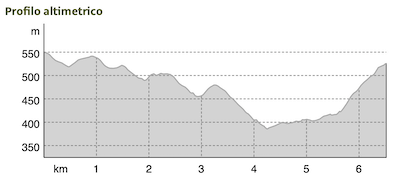 Let yourself be inspired by the legends, stories, and a thousand excellences of this land in the green heart of Tuscany