Municipality of Castelnuovo Berardenga
OUTDOOR / PATHS / CHIANTI
A single path that, through trails 370, 327 and 331, connects four wonders of the Berardenga area: the farm of Catignano, once a village, already documented from the 13th century; the villa of Geggiano, whose current layout dates back to 1768 and famous because it was the home of the internationally renowned Sienese archaeologist Ranuccio Bianchi Bandinelli; the villa of Monaciano, with the adjoining farm and the splendid park decorating the building transformed around the middle of the 19th century.
Finally, the treasure chest of wonder and beauty represented by the famous Certosa of Pontignano, a place of prayer of St. Catherine of Siena, patroness of Europe, founded as a monastery in the 14th century, now a spectacular building complex rich in marvellous architectural and artistic elements, intended for receptive activities.
Trails 328, 329 and 370A make it possible to shorten the route by creating loops of smaller size and allowing, perhaps in two outings, to fully enjoy the beauty of an area rich in architectural features. Trail 370A allows a variation of the route through which it is possible to overlook the lake of the Monaciano farm.
Points of interest:
Worthy of note are the four historical and architectural places of interest which give the route its name: the Villa Ranuccio Bianchi Bandinelli in Geggiano, the Villa of Catignano, the Certosa of Pontignano and the Villa of Monaciano. Three historical residences and a religious building enriched by wonderful gardens and parks, which inside preserve furnishings and finishes of high value and historical appeal.
Technical Details:
Departure: Ponte a Bozzone and Geggiano, in addition to the four significant places of interest along the route
How to Get There: By Car
Arrival Location: Ring route
Access: Ponte a Bozzone is located along the SP408, which connects Siena to Gaiole in Chianti and the Valdarno area; Geggiano is a characteristic equipped grove nearby Ponte a Bozzone, also along the SP408, a few hundred meters to the east. The four historic residences can also be reached from the municipal roadway north of Ponte a Bozzone
Difficulty: E – Hiking
Possible critical points: White roads, forest paths and vineyard roads. Special attention should be paid to the descent from the bank of the lake along 370A and while crossing the ford along 327 between the Scheggiolla and Giobbole farms.
Experience Requirements: Medium
Walking Time: 3 hours and 30 m.
Length: 12.7 km
Total ascent: 430m
Total Descent: 430m
Maximum Height: 365m a.s.l.
Minimum Height: 230m a.s.l.
Signposts: CAI signposts
Best time to take the trail: All year round but due to the fords please avoid the rainiest periods
Necessary equipment: Carverd-soled sports and waterproof shoes; spare socks recommended
Operators offering optional tourist services to the trail:
-Charterhouse of Pontignano
- Woodpecker of the Tinaia
- Villa Monaciano
- Belvedere Tenuta of Monaciano
- San Marcello in Chianti Farmhouse
-Pontignanello Farmhouse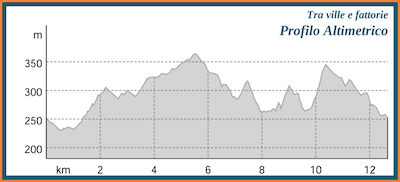 Let yourself be inspired by the legends, stories, and a thousand excellences of this land in the green heart of Tuscany