Municipality Barberino Tavarnelle
OUTDOOR / PATHS / CHIANTI

The route takes place in the municipality of Barberino Tavarnelle, on a road that is first paved and then turns into gravel, and follows the road that delimits the perimeter of the protected area, with the exception of a short stretch.
Historically, it was a very important road, called the "Guardingo di Passignano" road, connecting the Greve Valley with the Pesa Valley.
Starting from Badia a Passignano, where you can leave your car, you drive along the gravel road of Poggio al Vento along the vineyards. After crossing the small bridge over the Rimaggio ditch, continue uphill through the woods to the junction with the Rignana road.
If you wish, it is possible to make a diversion to visit the hamlet of Poggio al Vento (route length 760 m, all uphill on the way, difference in altitude 87 m).
At the junction with the Rignana road, take the dirt gravel road uphill to Podere Monte, then continuing on a path along the municipal border up to the intersection with the Testalepre provincial road near Casa La Paurosa.
Walk along the S.P.118 for a short distance, keeping the left hand-side, and then turn to the left again towards Badia. From here, we take the downhill road that leads to Casa Pugliano and, after crossing the Fontepuzzoli ditch, descend through the woods and vineyards of the Casa La Selva and Casa Calcinaia farms to the crossroads near Podere Torcilacqua, where we turn to the left and arrive back at Badia di Passignano.
Points of interest
The Chapel of the Fishes: about 1 km after Badia a Passignano, there is a diversion to the left with a sign indicating the Chapel of the Fishes (Cappella dei Pesci), which can be reached on foot and is not far from the road. According to tradition, Giovanni Gualberto asked two converts to fetch two fishes at the Camugnana spring to offer them to Pope Leo IX who was visiting Badia. Obviously, the two pointed out to John Gualbert that there were no fish there, but when they were near the spring, they found 2 large pikes. From then on, the waters were considered thaumaturgical and in 1510 Don Jacopo Mindria da Bibbiena had an oratory erected near the spring following an healing obtained;
Casa Pugliano: birthplace of Domenico Cresti, known as Il Passignano.
Technical details:
Starting point: Badia a Passignano
How to get there: By car
Arrival locality: Badia a Passignano
Access: Badia a Passignano
Level of difficulty: E - Hiking
Any critical points: no
Experience requirements: Minimal
Walking time: 2.5 hours
Length: 6.7 km
Total ascent: 150m
Total Descent: 143m
Maximum height: 504m above sea level
Minimum height: 285m above sea level
Signs: CAI signs (red and white stripes) and descriptive panels
Best time to tackle the route: All year round
Equipment required: Hiking shoes
Operators offering accessory tourist services along the route:
Bar il Divino
Osteria di Passignano
Refreshment stop L'Antica Scuderia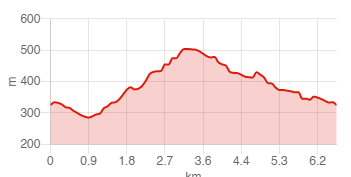 Let yourself be inspired by the legends, stories, and a thousand excellences of this land in the green heart of Tuscany