Summer in Chianti between public and private pools.
Summer in Chianti brings colours and excitement.
When the summer heat becomes unbearable you can always take a refreshing break from walking and outdoor activities with a dip in clear waters.
Equipped municipal swimming pools, streams or private resorts: choose the best solution for you and enjoy a cool summer in the heart of Chianti.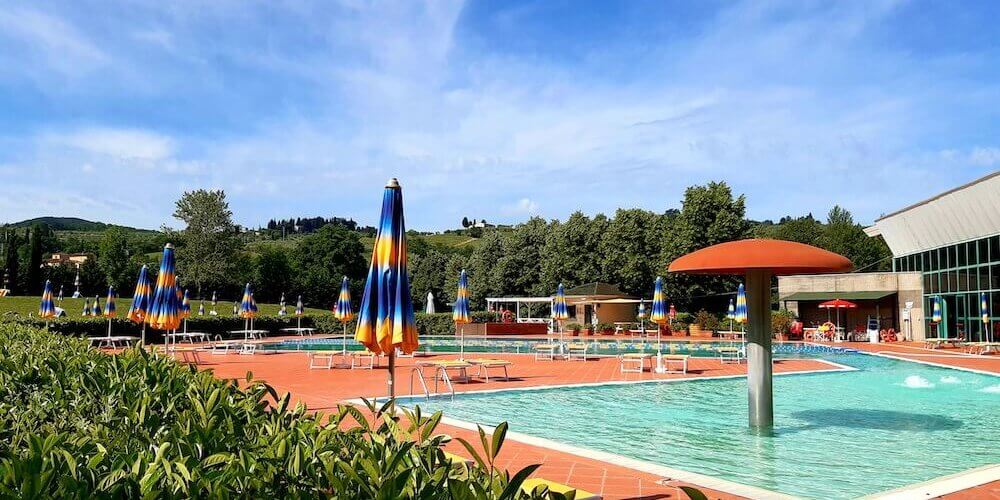 Municipal swimming pools in Greve, Castellina and Castelnuovo Berardenga.
There are several equipped municipal swimming pools in Chianti.
More intimate and cosy than those in large cities, such as Florence or Siena, they still offer many opportunities to have fun thanks to the wide range of services they offer.
Always in close contact with nature.
Greve in Chianti
Swimming pool of Greve Buonconvento
Via Montebeni, 6/8, 50022, Greve in Chianti
Tel. +39 0550357692
Mail: piscina@virtusbuonconvento.it
Web Site
Greve Virtus Buonconvento Municipal Swimming Pool is located in the heart of Greve in Chianti, surrounded by trees and greenery. It is open daily from 9 am to 7:30 pm. On summer days, you can relax in the beautiful outdoor pool with park or use the indoor pools. There are different rates depending on age and service required, as well as subscriptions. You can also take swimming or fitness classes, as well as rent a tennis court or five-a-side football pitch.
Castellina in Chianti
Piscina Comunale Loc. Fonte al Coscio
Loc. Fonte al Coscio, senza civico
Tel. +39 0577 740812 / +39 328 9939060
Mail: nuotovirtuspb@nuotovirtuspb.com
Web Site
The swimming pool at the Castellina in Chianti Municipal Sports Centre is located just outside the village. It is open from 10 a.m. to 7 p.m. In addition to the pool, the sports centre has a bar, a multi-purpose synthetic grass field and a tennis court. There are specific rates for different kind of customers and services required.
Castelnuovo Berardenga
Piscina Comunale di Pianella
Via della Pace, 6, 53019, loc. Pianella, Castelnuovo Berardenga
Google Maps
Tel.: 0577363132 / 348 6120154
Mail: piscinapianella.siena@usip.it
Web Site
The Castelnuovo Berardenga municipal swimming pool is located in Pianella, open daily from 9 a.m. to 7 p.m. It is an outdoor pool, ideal for relaxing during summer days. If you want to exercise, there are private lessons or fitness classes. Rates depends on different type of customers and activities.
San Casciano Val di Pesa
Piscina del Chianti
via Dante Alighieri, San Casciano Val di Pesa

Tel/Fax +39 055 8290298
Mail: segreteria@aquatica2004.it
Web Site
The Chianti swimming pool is located 500 metres from the historical centre of San Casciano Val di Pesa, nestled in the Chianti hills. There are two pools, one measuring 25x16 metres and the second, for beginners, measuring 7x7 metres. The pool is covered in winter and uncovered in summer, transforming it into a very evocative bathing centre. Equipped with a rest stop area and bar, it offers many services available to users, including swimming and water aerobics courses.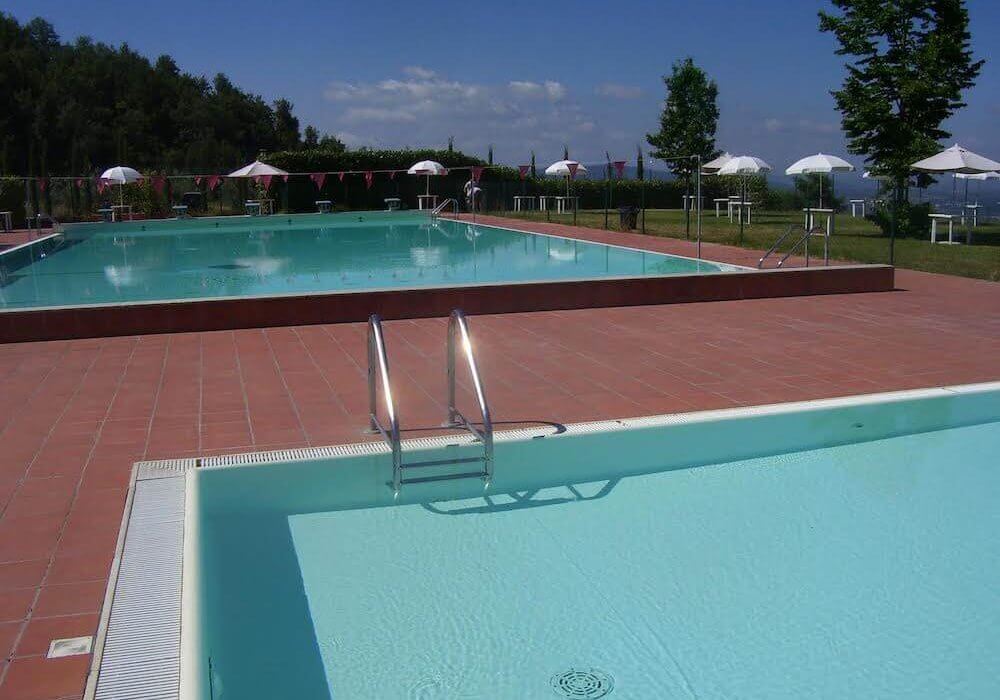 Private pools in villas and resorts
Sip a drink by the pool while enjoying the view of vineyards and woods on hot summer days: there are many villas, resorts and farmhouses in Chianti that offer their guests the possibility of private pools.
From Greve in Chianti to Castelnuovo Berardenga to San Casciano Val di Pesa, there is a wide range of solutions to suit your desires.
For more information, you can contact the Tourist Information Offices of the municipalities of the area.
Enjoy a chilly summer in Chianti!
Let yourself be inspired by the legends, by the stories, by the thousand excellences of this land in the green heart of Tuscany.
Discover Chianti, naturally unique!
In the centre of the story between Florence and Siena, the countryside and the small towns of Chianti are rich with appeal and corners to discover.