Municipality Castellina in Chianti
OUTDOOR / TRAILS / CHIANTI
The trail is a variant of the longer 349 and passes not only the village of Montecastelli but also Sicelle, a small hamlet with a fine church and external portico.
It then descends rapidly towards the Pesa stream to Petrazzo, where there is a small waterfall.
From the Molino di Petrazzo begins the Pesa River cycle path that leads to Sambuca
Points of interest
Cross of Transhumance in Montecastelli
Church of San Miniato in Sicelle,
Molino di Petrazzo Cascade,
Chapel of Saint John Gualbert,
Ramagliano Bridge at Sambuca
Technical details:
Starting point: Le Macine
How to get there: In Castellina in Chianti (1 km and 200 m).
Arrival locality: Sambuca Val di Pesa
Access: Vicinal road
Difficulty level: T - Tourist
Difficulty level: downhill and then uphill
Experience requirements: Minimum
Travelling time: 2.45 hours
Length: 8.1 km
Total ascent: 169m
Total Descent: 497m
Maximum height: 622m above sea level
Minimum height: 279m above sea level
Signposts: CAI signs
Best time to tackle the route: all year round
Necessary equipment: walking shoes
Operators offering accessory tourist services to the route: nd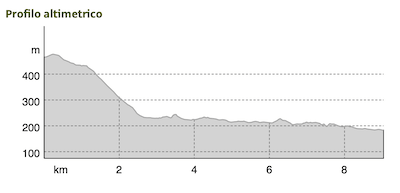 Let yourself be inspired by the legends, stories, and a thousand excellences of this land in the green heart of Tuscany.